---
6 free tools for boosting your SEO keyword strategy
Keywords are essential for inbound marketing. The thing is, it's not easy finding the right keywords without help.
A lot of online tools require you to pay a monthly or annual subscription, but there are perfectly good free alternatives out there, and it's those we're going to focus on. After all, what small business has good money to burn?
Start with why, not what
Before you start your search, make sure you know why you're searching. Is it:
For finding the right keywords for a blog idea you already have?
Or
Do you want to find the keywords that your audience might be searching to give you inspiration for what to write about in your content marketing?
The six free tools for finding the right keywords that we explore in this post can be used for either, but before you hit the web, look within your own company for answers first.
Who knows best?
Think about it: who knows best what your customers are looking for? Your customers! Of course, it isn't practical to ask every one of your customers what they commonly search for (although maybe ask a couple of your best), but there is another option: talk to your team.
Your sales team will – hopefully – have kept notes from their discovery calls with your clients. These notes will include the pain points clients were dealing with when they found your company.
Your customer service department also regularly talks with your clients. Ask them what the most common questions are and see if you can turn them into blog posts. Addressing these issues matches the last stage of the inbound marketing methodology: delight.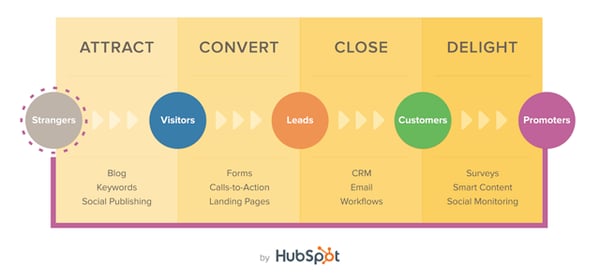 Being intuitive and working out what your customers want before they have to ask for it is a sure-fire way to build their trust. And if you can answer these questions with content it'll save your customer service team from repeating it over and over.
Once you've exhausted your internal resources, however, it's time to go online.
1. Google's autocomplete
Google's autocomplete feature is perfect for flagging up questions your audience might ask. The caveat is that it only shows you a small selection based on what Google believes to be most relevant, taking into account your own search history as well as popular searches. That said, it's a good place to start for finding the right keywords.
Take the example below. A search for 'What internet security' has been completed with four options, all of which can be made into blog posts.

2. Keywordtool.io
Keywordtool.io uses the Google Autocomplete algorithm to show you hundreds of results. The free version only lets you see the keyword suggestion; to see specific search volumes and more you have to pay a monthly fee. Despite this, you can still use this tool to generate potential blog ideas.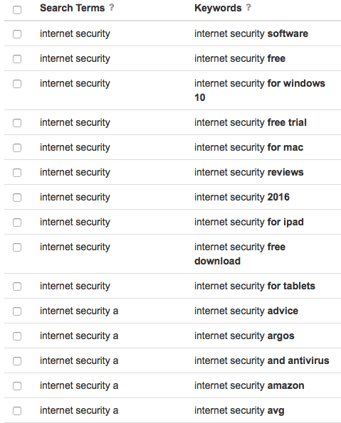 3. Google's keyword planner
In 2011, Google decided to protect personalised search data. As a result, a large chunk of keyword data that leads people to your website is now listed as 'not provided'. What this means is that some of the search terms people use to find your content are unavailable to you. Not ideal if you want to make use of those search terms to drive more traffic.
The Keyword Planner located in Google AdWords is one way to find the right keywords that were hidden. What's great about this tool is that you can filter the results by location, language and search engine. Neil Patel from Quick Sprout outlines how best to use Google's Keyword Planner.
4. Google trends
Another tool in Google's arsenal is the Trends feature. It isn't as comprehensive as the Keyword Planner, but it is good for comparing keywords. Take the example of 'IT department' and 'IT team'. You want to use both terms in a blog post, but you want the stronger of the two to be used for the title and alt text etc.
In Google Trends, you can input both terms and compare the interest over time. In the image below, you can see that 'IT team' has a higher interest and is therefore the better option for your main keyword.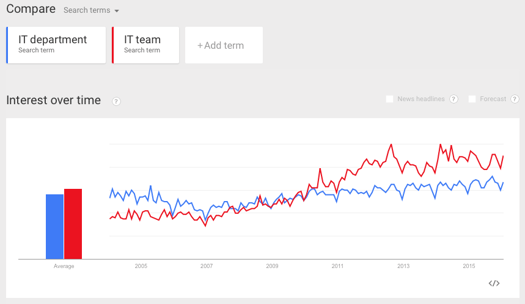 5. SEMRush
This tool should be on every savvy marketer's bookmarks bar. The free version of SEMRush offers a decent amount of keyword data from organic search volumes to phrase matches and related keywords. The example below shows the results for 'IT security'.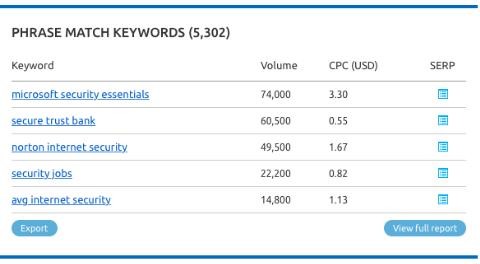 You need to upgrade to the premium version to see the majority of the results. However, you can see 10 results for each section by extracting the reports.
On our search for 'IT security', we were able to find 10 unique keywords that could form the basis for a blog post. In the image above, you can see five of those in the Phrase Match section. Each of the phrases listed (provided they are relevant to your business) can be made into a blog post.
6. BuzzSumo
BuzzSumo is about social shares rather than search volume. This is a very different yet equally useful metric; after all, you'd love your blog to go viral so why not look at what is trending in your industry?
A few tips:
For long tail keywords use "quotation marks" so the full term is searched rather than its individual parts.
Change the filters to see results from the past year or the previous 24 hours.
It's cheeky, but enter your competitor's URL to see which of their posts are popular. You can learn a lot from your rivals.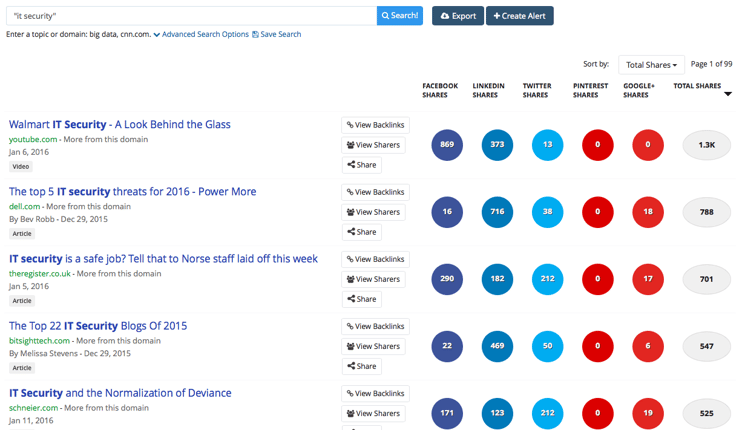 Wear your customers' shoes
Ultimately, finding the right keywords means getting into your customers' shoes. You want to think like them. Bear this in mind and after a good research session you will have plenty of keywords that target your customers' questions and get you climbing up the rankings as a credible, trusted source for all the right information.

https://www.articulatemarketing.com/blog/6-free-tools-for-finding-the-right-keywords
On – By Jessica Lawrence
Recommended Posts
March 27, 2018
March 27, 2018